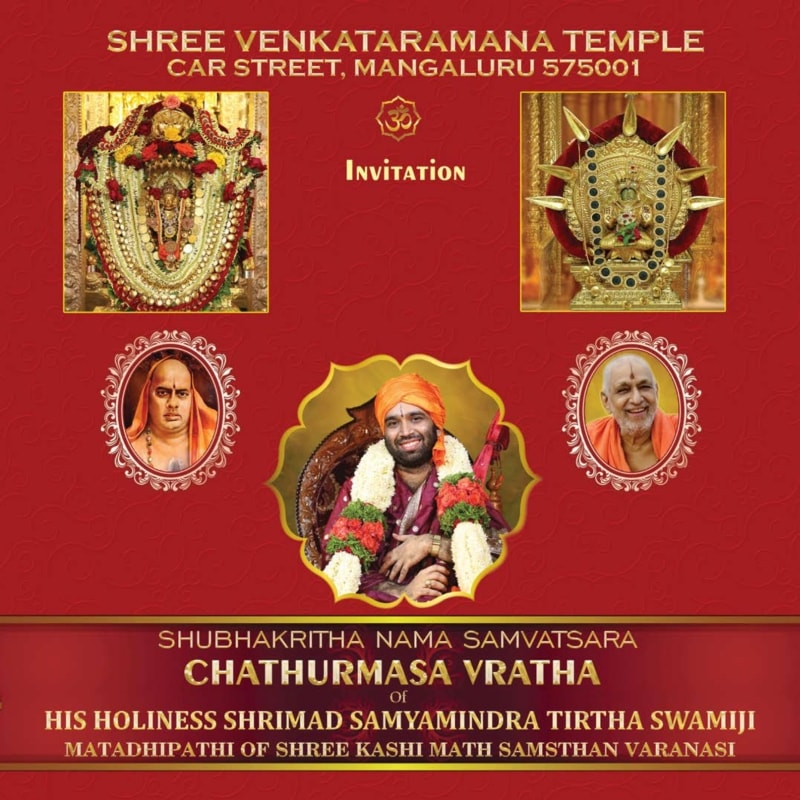 Dear Samaj Bhandhavs,
Sri Venkataramana Temple, Mangaluru having its history of over two centuries being etched in golden letters is considered to be the focal point for GSBs across the world. Our Temple being the centre for dharmik activities is rightly regarded as one of the most prominent temples and the source of serenity & divinity where sincere prayers get answered.
In the year 1804, the remarkable Prathistha of our Supreme Lord Shree Veera Venkatesha by the divine hands of the then Kashi Matadhipathi Parama Poojya Shrimad Vibhudendra Tirtha Swamiji on the auspicious day of jyesta shukla trayodashi is remembered with reverance. This marks the beginning of the allegiance of the temple to Sri Kashi Math Samsthan, Varanasi & thereafter every step the Temple has ever taken has been under the holy guidance of the great lineage of Guru Parampara of Sri Kashi Math Samsthan. The Mangalore Samaj has been affluently blessed by the Guru Parampara & the historic event of Punar Prathistha Mahotsav of Lord Shri Vyasa Raghupathi Narasimha, the presiding deities of Shree Samsthan, was held at the Temple premises in the year 2012. H. H. Shrimad Sudhindra Tirtha Swamiji the most revered Guru & worshipped as the Speaking God by all devotees, have always considered the Samaj of Mangaluru as one of the two eyes of Shree Samsthan, the other being Kochi.
Shree Swamiji have blessed us enormously & have been our guiding light in all major events throughout including the Jeernodhara & Punar Prathistha of our Lord Shree Veera Venkatesha in the year 2012. Their holy presence & divine blessings have undoubtedly been the reason for glory & growth of the Samaj.
H. H. Shrimad Samyamindra Tirtha Swamiji, the Mathadipathi of Shree Kashi Math Samsthan, Varanasi has blessed the Samaj of Mangalore profusely towards enlightenment on all occasions. Their spiritual presence during the Jeernodhara of the Temple & most recently during the Samarpan of New Brahma Ratha to Lord Shree Veera Venkatesha has showered immense blessings & affection on the entire Samaj.
We deem ourselves even more fortunate, as H. H. Shrimad Samyamindra Tirtha Swamiji has blessed in abundance our Samaj by consenting to the Vinanthi Pathram to observe their Shubhakritha Nama Samvatsara Chathurmasa Vratha at Sri Venkataramana Temple, Mangaluru from July 18th, 2022. H. H. Swamiji have given us a golden opportunity to render our sevas during this period. We consider this a true blessing to serve Shree Hari Guru & be eternally blessed by the Guru Parampara & Shree Vyasa Raghupathi.
All the Samaj Bhandhavs are cordially invited to attend & take part in the various rituals during this entire period of Chathurmasa & avail this opportunity to serve Sri Hari Guru with utmost devotion & thereby invoke divine blessings for betterment of our lives.
| Sl. No. | Type of Seva | Rs. Ps. |
| --- | --- | --- |
| 1 | Athi Vishesha Seva | 5,00,000/- |
| 2 | Vishesha Seva | 1,00,000/- |
| 3 | Full day Seva | 50,000/- |
| 4 | Samaradhana Seva | 25,000/- |
| 5 | Laghu Vishnu Abhisheka | 12,000/- |
| 6 | Hari Guru Seva | 10,000/- |
| 7 | Bhiksha Seva | 2,500/- |
(Sevas 1, 2 & 3 includes Laghu Vishnu Abhisheka & Bhiksha Sevas )
(Sevas 4 & 6 includes Bhiksha Seva)
(Sevadars of 1, 2, 3, 4 & 6 will also receive prasadam from the temple after the Madhyana pooja in the temple)
The Seva Amount may be Sent by Cheque/DD/RTGS/NEFT favouring
Shree Venkataramana Temple Car Street, Mangalore or in CASH at the Seva Counter.

Info
A/C Details
Bank
UNION BANK OF INDIA, Car Street Branch, Mangalore
SB A/c No
520101000310995
IFSC Code
UBIN0900036
Kindly intimate Name, address with Pin Code and Bank payment details to the
Mobile / WhatsApp number – 9845082646
Email: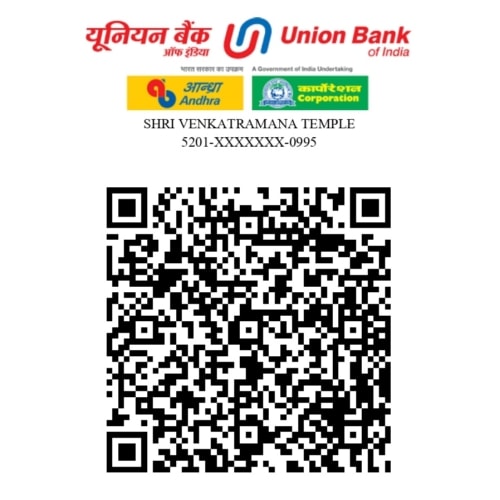 Chathurmasa Committee
Chaturmasa Samithi Of H. H. Srimad Samyamindra Teertha Swamiji
Chathurmasa Programmes
Important Events and Programmes during
Chaturmasa – 2022
Type of Information
Contact
Seva Booking
B. Sudhir Baliga: 94804 33551
H. Nagraj Bhat: 77609 05604
Accommodation
H. Suresh Shenoy: 72049 06607
Bus, Train, Flight
G. Sadashiva Prabhu: 94484 76665, 83105 24165
Local Travel Desk
98453 89788
Bhajan Programme
86181 78462, 99458 47881, 98456 89751
Cultural Programme & Chathurmasa Related
CA. M. Jagannath Kamath: 98450 82646
G. Suresh V. Kamath: 96869 44977
Temple Manager
Vittaldas Baliga Manager SVT: 99801 89727
Nearest Railway Station
Mangalore Central Railway Station (1.2 Kms.)
Mangalore Junction Railway Station (5.8 Kms.)
Nearest Airport
Mangaluru International Airport, Bajpe (13 Kms.)
Nearest Bus Stop
KSRTC Bus Stop, Bejai (2 Kms.)
City Bus Route
1, 1B, 7, 13, 31A